Details

Written by

Bob Willis

Category:

Defect of the Month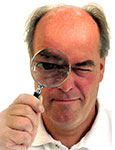 Get the right stencil for the job.
This month we illustrate an example of what appears at first glance to be poor lead solderability. When examined, however, it is a combination of component and pad design.
FIGURE 1 shows the lead to be floating in the solder joint, suggesting poor wetting. When we examine the component lead and plastic body, however, the lead is not parallel, so it always sits off the pad surface, even if perfectly soldered. The lead sits in a cavity in the component body to maintain its position. But with the size of the pad used in the design and a full solder paste print, the component body will always lift.
To continue reading, please log in or register using the link in the upper right corner of the page.
Read more: Component Body Lifting