Details

Written by

Bob Willis

Category:

Defect of the Month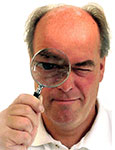 While coatings are typically used on boards, some choose to coat components as well.
This month we show manual conformal coating on one component. One optical example is shown under normal lighting and then under UV light, to show the tracer added in coatings to allow easy manual or automatic inspection. This is not a defect. I asked if this was intended, however, as it was unusual.
Traditionally, coatings are used to protect circuit boards in humid environments and more so in condensing conditions to prevent corrosion. On some occasions design engineers also use coatings to provide that little stability.
Read more: Conformally Coated Chip Caps
Details

Written by

Bob Willis

Category:

Defect of the Month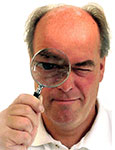 Inappropriately sized pads can result in excessive solder and, eventually, defects.
This month we show soldering of 01005 chip resistors from an early project with lead-free assembly. The microsection image in FIGURE 1 shows a few issues, but it's the circles in both joints that caught my eye. Yes, they are voids before they are unmasked. During sectioning we stopped just before entering the void. Most would have continued a few more micros to remove the thin sliver of solder, which was the wall of the void, to show the void. But everyone has seen voids before!
Read more: 01005 Termination Lift