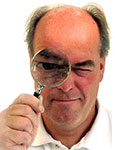 Is poor stencil design the culprit?
This month we illustrate solder balling and incomplete reflow when reflowing through-hole components with pin-in-paste.
Solder balling pin-in-hole reflow (PIHR) close to the body of the connector suggests poor design of the stencil for this application (FIGURE 1). There is no standoff on the corner of this part, which may have permitted the paste to be displaced when the component was attached. There should always be free space around the paste deposit to permit placement and reflow, without contacting the paste.
To continue reading, please log in or register using the link in the upper right corner of the page.
---