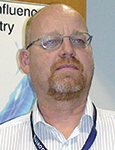 Is it the mask, or is it the gold-plating underneath?
Peelable masking has been used in the past to protect gold key pads during soldering or from solder spitting during reflow, which leads to solder wetting spots on some terminals. This, in turn, may be a cosmetic issue, but also may affect the operation of the contacts.
In FIGURE 1, the peelable coating reflects poor adhesion of the gold to the surface of the pads. This problem is related to the preparation of the contact pads prior to gold or nickel plating and was not related to the assembly process or mask. Testing for gold adhesion using IPC methods showed a total lack of adhesion of the plating.

Figure 1. Lack of adhesion of gold to solder pads.
These are typical defects shown in the National Physical Laboratory's interactive assembly and soldering defects database. The database (http://defectsdatabase.npl.co.uk), available to all this publication's readers, allows engineers to search and view countless defects and solutions,
or to submit defects online. To complement the defect of the month, NPL features the Defect Video of the Month, presented online by Bob Willis. This describes over 20 different failure modes, many with video examples of the defect occurring in real time.
Martin Wickham is a consultant at the National Physical Laboratory (npl.co.uk); This email address is being protected from spambots. You need JavaScript enabled to view it.. His column appears monthly.