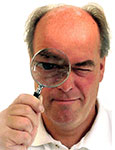 Solder paste escaping gaps in underfill can cause electrical failures.
Welcome to our latest Defect of the Month. This month we illustrate what can happen with area array packages that have been underfilled during rework.
During any rework, it is important to avoid overheating components on the opposite side of the board or adjacent to the parts being reworked. If solder joints surrounded by underfill undergo reflow, or are close to reflow temperatures, the solder will expand/extrude, then flow under pressure through any openings (FIGURE 1). (We have captured solder reflow in underfill during reflow simulation in x-ray investigations for a customer at Dage.) Voids in the underfill or gaps caused by expansion of the component can result in joints becoming intermittent. Such joints can fail at any time during the product's life.

Figure 1. This x-ray shows solder extruded under the BGA package in the light gray area on the left edge.
Alternatively, the solder escaping under pressure will be ejected from the side of the component through gaps in the underfill. This may lead to solder balls or shorts on other parts of the board (FIGURE 2). We have also seen this happen on parts being reworked when the solder has completely reflowed, and the package is twisted before lifting.

Figure 2. Solder balls adjacent to the edge of a package.
The key is a well-defined process for rework. As part of the rework procedure, correctly profile all areas of the board assembly to avoid any secondary reflow.
We have presented live process defect clinics at exhibitions all over the world. Many of our Defect of the Month videos are available online at youtube.com/user/mrbobwillis.
Bob Willis is a process engineering consultant; This email address is being protected from spambots. You need JavaScript enabled to view it.. His column appears monthly.