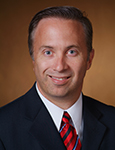 Yes, but there are performance and cost tradeoffs.
You have started a new design. The chassis is defined, and you are thinking about how everything could be connected. Unlike the past, you are thinking about the interconnect strategy early in the design process, rather than at the last minute. Now you must decide what will be connected as an integrated rigid-flex and what might need to be done separately. So many design options are available right now. Here is where the question comes up: What if my layer counts are not consistent everywhere?
When faced with this, don't worry. Rigid-flex allows us to design in almost any configuration. Each has performance and cost tradeoffs. Let's review few of the more common design styles.
Combo board. This design joins two processor boards. However, the left board has more functionality and therefore requires more layers. What to do? You could make the left board 14 layers and the right board eight layers, as you may think that would save money (FIGURE 1). That is not the case, however. In fact, it is more expensive to leave it as 14 layers on one side and eight layers on the other. This is because circuits are built in a panel format, and the material for all 14 layers exists in all areas. Tooling is developed to remove material where it isn't wanted. Thus, you pay for all the material and then pay to have it selectively removed. In addition, the eight-layer side needs to be drilled and plated first. Then the rest of the 14 layers get added, drilled and plated again. This means paying for double processing. To avoid this cost, we recommend both boards have all the material for 14 layers. If the layers aren't needed, add nonfunctional pads or extra planes. Who doesn't like another ground plane?










Figure 1. The combo design varies the number of layers in each board.
The octopus. Maybe you have a design with a main processor/backplane board, with arms coming off in many directions (FIGURE 2). The main board has 12 layers. There are flex arms, each with flex layers terminating at an I/O connector end. At these ends, you only need four to six layers to pin it out. You might stop there, thinking it will be lower cost if no material is added where it is not needed. Again, it is cheaper to leave the extra material there.















Figure 2. A board with arms coming off in many directions, like an octopus, is less expensive to build if any extra material is left intact.
Sometimes, however, you may have a constraint. In some cases, there is not enough space in the box. Alternatively, maybe the connector you need only comes with shorter pins. If that is the case, you may need to reduce the layer count. Don't fear. It can be done; it just takes extra processing. Your supplier can help you with the design to minimize cost impacts.
The overlapper. In this type of design, multiple flexes need to exit the main board in the same x-y plane (FIGURE 3). Their terminations overlap or sit on top of each other in a staggered fashion.













Figure 3. If multiple flexes need to exit the main board in the same x-y plane, the main portion of the board needs at least two more layers than the two rigid tails combined.
This is a bit more complex, and there is no way to make all the rigid ends the same. In this type of design, the main portion of the board needs at least two more layers than the two rigid tails combined. This is because this type of board is constructed as two separate boards: one for the top and one for the bottom tail. Then, they are laminated together between additional rigid layers. These additional rigid layers serve two purposes. First, they provide for additional routing in the main board to connect top and bottom. Second, that material creates a pouch around the previously fabricated tail ends to protect them for the remainder of the circuit fabrication. In this case, we must have more layers at the main board than we have at the tails. In these types of designs, ENIG is a preferred final finish, rather than solder.
There is a way around this if you revisit how you get from point A to point B. If you have space, you can jog one of the flexes around the rigid section of the shorter tail, and then back down to your longer termination end (FIGURE 4). In this way, all three rigid boards have the same layer count. This significantly reduces material and process cost. It also eases assembly.













Figure 4. By routing one of the flexes around the rigid section of the shorter tail, all three rigid sections can be the same layer count.
Several variants on this exist where the flexes may need to overlap but terminate in different areas. Provided the rigid ends terminate with the same material sets, the impact to the unit cost can be managed.
All these options can be achieved, but each comes with a distinct cost. Select a design that gives all the connectivity you need without incurring unnecessary premiums.
Once again, congratulations for thinking about the circuit options early in the design phase. This is where you can get the most performance and functionality and the lowest cost. Remember less is not always better.
Nick Koop is senior field applications engineer at TTM Technologies (ttm.com), vice chairman of the IPC Flexible Circuits Committee and co-chair of the IPC-6013 Qualification and Performance Specification for Flexible Printed Boards Subcommittee; This email address is being protected from spambots. You need JavaScript enabled to view it.. He and co-"Flexpert" Mark Finstad (This email address is being protected from spambots. You need JavaScript enabled to view it.) welcome your suggestions. They will speak at PCB West (pcbwest.com) in September.